We can hardly contain ourselves because we're just about to launch our brand new range of luxury lighting in natural stone; designed of course by our very own Ian Knapper and made using only the finest British materials.
The new range of lamps—which will be fully customisable through a user-friendly page in our website—has been carefully crafted to accentuate and punctuate interior designs incorporating natural stone, giving instant contemporary elegance and style. The launch of the new range is planned for the Spring Fair International 2014 at the NEC Birmingham, 2-6 February.
If you'd like to receive an email when the new range goes live,  CLICK HERE to send us a note.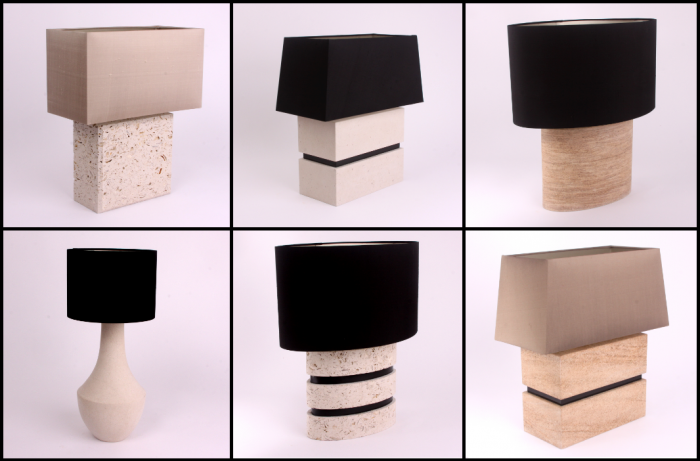 Best of British Design
Over the years we have worked very closely with many interior designers on some of the most prestigious projects imaginable; from large public spaces to super-prime mansions. It is this insight—combined with our passion for great design—which has inspired the new range.
Being a British-based designer, we wanted to show off the luxurious and beautiful materials that Britain has to offer. Our elegantly simple lamp bases are created using hand-selected blocks of high quality British stone; including Weatherbed, Portland Basebed and Portland Roach. Each lamp is handmade and finished to a high standard by our team of award-winning stonemasons.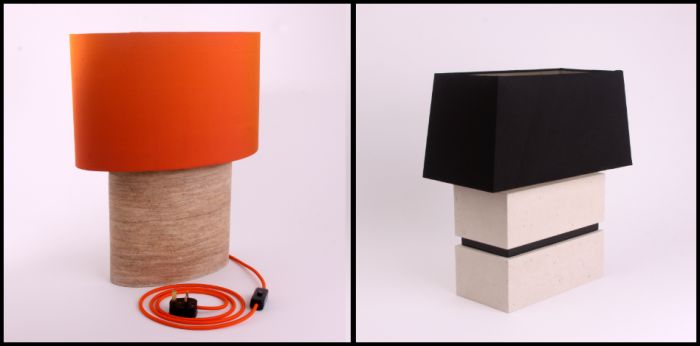 The lampshades, offered in a range of colours to compliment the different stone types, are woven from an incredibly luxurious all-natural silk;  painstakingly rolled and neatly tucked to give an exquisite finish. Due to the nature of working with natural stone and natural fibres (complete with natural 'slubbing'), each completed lamp is subtly unique and has its own character.
The Finer Details
We're meticulous. If you've worked with us before, you'll know that we take attention to detail very very seriously. These lamps, therefore, wouldn't be complete without the subtle additions and features that make all of our work so special.
Firstly, each lamp contains an embedded, antique solid bronze coin bearing an 'ordinance benchmark' symbol, traditionally used by stonemasons to indicate the altitudes of buildings. This mark of authentication has been slightly amended to incorporate the initials 'I.K.' (for Ian Knapper) so there will be no confusion about whether or not your luxury lighting is the real deal.

Furthermore the power cables for the lamps—rather than being made of tacky plastic—are beautifully braided fibre cords, specially designed for the range: Safe and elegant! The braided cords can be made in a range of colours too, making each lamp all the more bespoke. You can talk to us about colour choice before you buy if you like… We're always happy to advise on interior design.
Talk to Ian about Tailor-Made Luxury Lighting
We can produce shades to enhance or blend into any interior… You can even send us your own fabric! We can create any shape of lamp base (physics permitting) and we can advise on the best combinations of materials for specific aesthetic and practical purposes. We'll also be offering special services for resellers, interior designers or other businesses who may require something a little bit different.
Don't hesitate to get in touch and ask us questions. Call 01538 722 733 or email us.